LASIK/PRK Surgery Westchester County, NY
Proudly Serving New Rochelle, Mt. Vernon & Bronxville
Freedom from Glasses with LASIK / PRK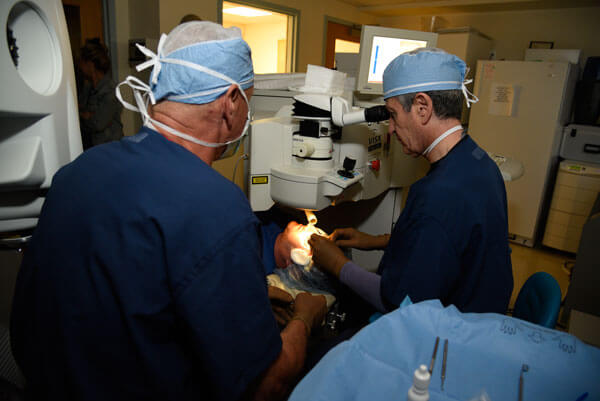 LASIK and PRK currently are among the most popular refractive laser vision correction procedures. These surgeries have helped millions of people in the United States and worldwide eliminate or reduce their dependence on glasses and contact lenses. As one of the most experienced PRK and LASIK surgeons in Westchester county, Dr. Lippman has performed thousands of successful refractive laser procedures. At Lippman Eye Care Center he performs LASIK and PRK to correct nearsightedness, farsightedness and/or astigmatism to help his patients achieve freedom from glasses.
How Does LASIK Work?
The sophisticated LASIK (Laser Assisted in-situ Keratomileusis) procedure usually takes less than 20 minutes to complete, and many patients experience significant vision improvement by the very next day. LASIK involves two steps — the creation of the corneal flap and the reshaping of the underlying corneal tissue. The goal of reshaping the cornea is to ensure that it refracts light rays properly — the key to clear, crisp vision. After Dr. Lippman has adjusted the shape of the patient's cornea by using a special excimer laser, he completes the LASIK procedure by smoothing the corneal flap back into place. The flap serves as a natural bandage, which means that our Westchester county LASIK patients do not require stitches or eye bandages.
---
---
PRK vs. LASIK
Similarly to LASIK, PRK (Photo Refractive Keratectomy) works by reshaping the cornea so that it can refract light rays correctly. While LASIK and PRK might appear similar, there are several major differences between these two procedures. The most important difference is that PRK does not involve the creation of a corneal flap! Instead, Dr. Lippman removes the epithelium (surface tissue of the cornea) and then treats the exposed corneal tissue with an excimer laser without the need for flap creation!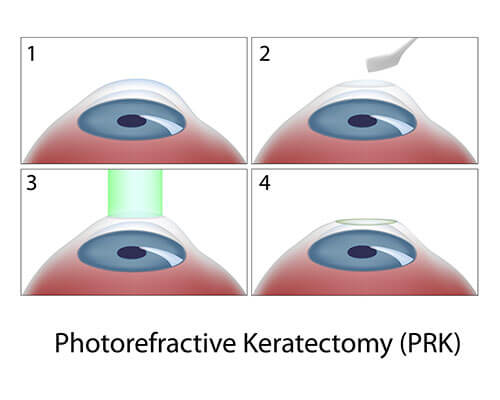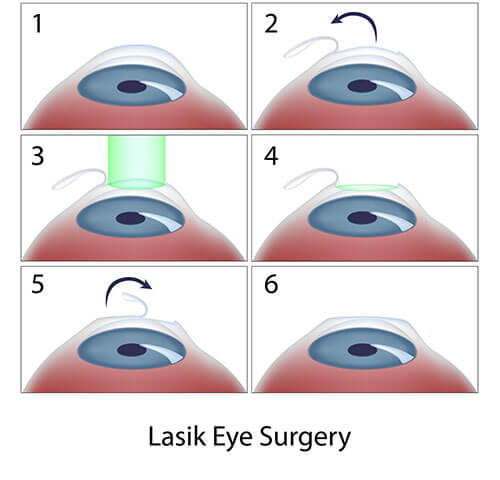 After reshaping the corneal tissue, Dr. Lippman places a soft contact lens over the treated area. The lens serves as a temporary bandage while the epithelium grows back, which typically takes three to five days. Due to the fact that PRK often involves a greater amount of surface healing than LASIK, the recovery and vision improvement after PRK is a bit more gradual than after LASIK, but with less intra operative trauma and less risk. While many LASIK patients often notice remarkable vision improvement the very next day, PRK patients typically require a few days.
The final outcomes for both LASIK and PRK are similar, with most patients achieving 20/20 vision or better. The main reason why certain patients choose PRK is the fact that this treatment is safer and appropriate for many individuals, especially those who may not qualify for LASIK. For example, patients with thin corneas, large pupils and certain corneal scars usually are not candidates for LASIK, but often qualify for PRK. Additionally, PRK spares the patient the sometimes anxiety provoking experience of flap creation, as there is no need for flap creation using Advanced Surface Ablation (CustomPRK).
Patients who suffer from cataracts or glaucoma often require different types of surgical treatments, as well as those with extreme myopia, hyperopia and/or astigmatism. For the latter patients, Dr. Lippman offers the leading-edge clear lens exchange procedure whereby he substitutes patients' natural lenses with artificial lens implants, such as Crystalens or Restor, or Toric Implants for astigmatism.
Schedule Evaluation
Click the button below to schedule your evaluation today!
Advanced Surface Ablation
Dr. Lippman has performed thousands of laser vision correction procedures (including Lasik) and now prefers "wavefront guided PRK" (Advanced Surface Ablation). He believes it is the safest and best method of laser vision correction currently available.
Advanced Surface Ablation Advantages
A much easier intraoperative experience for the patient
No cutting or weakening of the cornea.
Much lower susceptibility to trauma in years to come (especially important for those involved in the military, law enforcement, and firefighting)
No flap complications
Lower incidence and severity of surgically induced dry eye.
LASIK FAQs
Dr. Lippman and his team of highly skilled medical professionals are dedicated to helping LASIK patients from Westchester county, Mount Vernon, Scarsdale, Rye and White Plains achieve rewarding vision correction results. They perform thorough evaluations to determine which procedure is most suited to each patient. Please peruse these questions and answers to learn how Dr. Lippman determines if you are a candidate for LASIK, what happens on the day of the procedure, and what you can expect after your LASIK eye surgery.
Steps to Getting Laser Vision Correction in Westchester County
First Step – Free Refractive Surgery Screening
Contact Dr. Lippman's Eye Care Center by phone or e-mail to schedule a free one-on-one screening. During your screening, you will undergo a brief exam checking your spectacle prescription, and corneal, health and thickness. These tests will determine if you are a candidate for laser vision correction. If this procedure is not for you, we'll tell you so. If you are a candidate, you will have an opportunity to have all your questions answered personally. Dr. Lippman's goal is to help you develop a complete understanding of LASIK surgery and your particular situation so that you can make an informed decision.
Second Step – Complete Pre-Op Exam
If you qualify and desire to proceed with surgery, the next step is a thorough dilated pre-operative eye exam. This is necessary to exclude any type of unrecognized internal eye disease, which may interfere with the procedure, such as retinal disease or glaucoma. It is necessary to discontinue contact lenses for a period of time prior to this exam in order to allow your cornea to return to its natural shape. Dr. Lippman uses the WaveScan WaveFront System to map your eye's surface, enabling him to customize the Visx STAR S4 IR Laser to your very unique requirements. The cost of the pre-operative exam is included in the surgical fee for LASIK surgery. Should you decide not to proceed with surgery, you are then billed for a regular eye examination.
Third Step – Surgery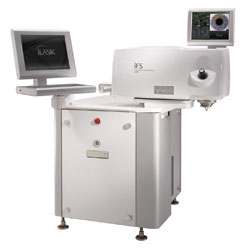 You will arrive at the Eye Surgery Center of Westchester about thirty minutes before your procedure. Patients may choose to have an oral sedative to help them relax. You are escorted into the laser treatment room and positioned on a surgery table under the laser. Your job is to look at the blinking red fixation light and to keep you head relatively still. Under eye drop anesthesia, an eyelid retainer is placed to keep you from blinking. The FemtoSecond Laser may then be used to create the protective flap. This bladeless technique for flap creation allows for the finest quality flaps while minimizing risk to you. If you are having the Advanced Surface Ablation "procedure, no flap creation is necessary as Dr Lippman removes a sufficient amount of surface epithelium to allow the laser access to the corneal tissue using a small amount of 20 % alcohol. Next Dr. Lippman uses the cool beam of the Visx STAR S4 IR Excimer Laser to gently reshape the curvature of your cornea to match your refractive condition. The actual laser treatment time is usually less than thirty seconds per eye and you should experience little or no discomfort or pain. The protective flap can then be repositioned and allowed to naturally seal in place without sutures. If the Advanced Surface Ablation procedure is performed, bandage soft contact lenses will be placed on both corneas to allow for comfort and healing.
Fourth Step – Post Op Care
Careful detailed attention to post operative care by the operating surgeon is critical to the success of your LASIK procedure. Dr. Lippman is committed to personally providing your post-operative treatment. This begins about thirty minutes after your procedure when he will check your eyes prior to your returning home from our Eye Surgery Center of Westchester. It is then best to rest your eyes or sleep as much as possible. You will return to our office the day after surgery for a post-operative visit. Most persons can return to normal activities within 1-3 days of surgery. Additional post-op exams with Dr. Lippman may be scheduled at one week, one month, three months and six months following your procedure.
Final Step – A New Lifestyle
Although individual results vary, most patients experience a dramatic improvement in uncorrected vision, significantly reducing or eliminating their dependence on glasses or contact lenses for most activities. A very high percentage of patients, even those in contacts or glasses for many years, are able to drive without correction following Laser Vision Correction.
LASIK / PRK Financing
We encourage you to contact your insurance company to see if they offer coverage for Laser Vision Correction. However, because refractive surgery is considered to be elective, most insurance companies do not provide for Laser Vision Correction as a covered benefit.
The fee for LASIK surgery includes the pre-operative examination and testing, the surgical procedure itself, the laser center fee, and postoperative care for a period of twelve months. Payment is due in full prior to the procedure. Acceptable methods of payment are cash, cashier's check, major credit card or pre-approved financing. Our office can assist your application for any financing option.
Contact Us
To learn more about LASIK/PRK and other laser vision correction procedures, contact our New Rochelle, NY office to schedule a consultation.